Frank Iero
Frank started playing in local bands on the New Jersey punk scene when aged 11. Before joining My Chemical Romance he served as frontman for the punk band Pencey Prep. The band released an album, Heartbreak in Stereo, on the independent Eyeball Records before disbanding. Whilst playing with Pencey Prep, he became friends with Gerard Way and the other My Chemical Romance members, became a fan of their original demo and helped them get their first shows. After his band broke up, Frank played in several bands, including I Am A Graveyard, Hybrid, Sector 12, and American Nightmare before being offered the slot of rhythm guitar in My Chemical Romance.
On October 13, 2016 Iero was injured in a motor vehicle accident in which a passenger bus with no passengers hit them as he and his band unloaded their van for a show in Sydney, Australia. Iero was dragged about 10 feet along the curb by the bus until his publicist moved the van, he credits "an enormous rucksack" for saving his life that day. He canceled all remaining 2016 shows and would later speak about that day saying "It broke that impact. I don't even know what would've happened. It's incredible to me that we're all still alive. No one that witnessed the accident thought that we would be."
The Band
Current members – (wiki entry)

Frank Iero – guitar, lead vocals, bass
Evan Nestor – guitar, backing vocals
Matt Olsson – drums, percussion, backing vocals
Alex Grippo – bass guitar, backing vocals
The Set
By the time Frank Iero and the Patience take the stage at Brighton's venue Concorde 2 on a wet, damp Monday evening, the gathered crowd was brimming with anticipation. A top line up of The Paceshifters, The Homeless Gospel Choir and the marvellous Dave Hause and the Mermaid had set the scene for these guys. They had performed a set of gigs as guests of the Deftones and Risa Against, but now they are headlining their own headline gigs across Europe and the UK.
A red hot version of 'World Destroyer' set the scene and the tone for what was to come for more than an hour. The packed in crowd reacted accordingly and the signal that a crowd are having fun came into play, the floor begins to shake as the crowd bounced and jumped!
Iero is backed up ably by his new band.  The band took their positions, with Iero centre stage backed by his superb guitarist Evan Nestor and top bass player Alex Grippo on his left and right. The two of them put up one hell of a wall of sound. Matt Olsson – the man at the back was on drums for the Patience. Extraordinary sounds from his kit as he provided full support to bass with strong fills and patterns and whatever he else he threw at it! Sadly the smoke machine obscured our view of him but we could hear his solid rhythms!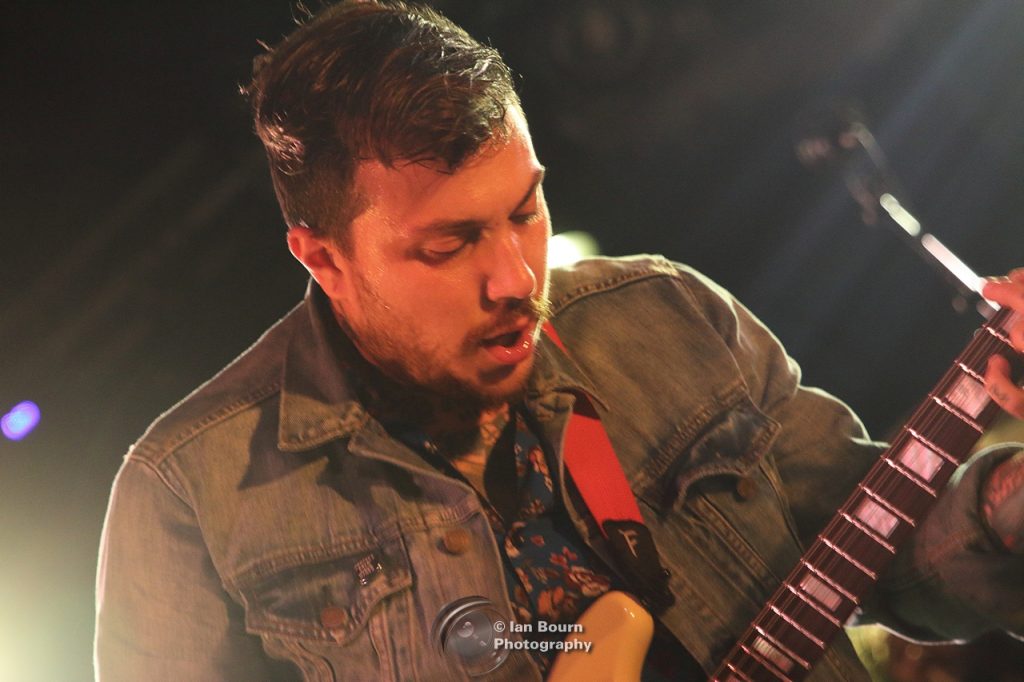 It may have been cold outside, but the intensity of their sound warmed things up a bit.. The volume was as high as their pace. They kept the crowd bouncing for the entire duration of their set
Other songs included were Neverenders, Blood Infections, Weighted, Remedy, BFF, Prettiest Girrrrrl and more! The set had turned into a steamroller of songs all delivered with power and gusto from the entire crew. The set closed with Miss Me, Joy and the sublime Oceans.
Iero and The Patience came, saw and conquered! Iero delivered.
Frank Iero – On the web
Frank Iero – On Facebook
All photos/words are copyright to IANB/MEDIA WORKS and Scene Sussex. If any of the artists or venues require any of these photos, or more if available, please get in touch.
Got an event coming up? Need some gig photography, promo shots, previews or reviews? – please get in touch!
Save
Save
Save