Nine Below Zero
The band was originally formed in South London in 1977, by guitarist and lead vocalist Dennis Greaves. Taking bassist Peter Clark with him, they recruited Kenny Bradley on drums, and vocalist and harmonica player Mark Feltham. They originally called themselves 'Stan's Blues Band', and for two years built up a local following in London. In 1979, while playing at The Thomas A'Beckett pub in the Old Kent Road they accepted an offer from former musician Mickey Modern to manage them, and it was he who persuaded them to change the band's name to something sharper. Greaves chose Nine Below Zero after a Sonny Boy Williamson II song. At that time Modern was a musician signed to A&M Records; after producing the band's demos he persuaded A&M to give him a record label with which to launch this band's career.
The Band
Dennis Greaves (guitar and vocals)
Mark Feltham (harmonica and vocals)
Charlie Austen (additional vocals/percussion)
Ben Willis (bass)
Sonny Greaves (drums)
not clear (keyboards and guitar) – I think keys were actually played by another of Dennis Greaves sons? Any information out there?
Nine Below Zero: The Set
Concorde 2 was the venue, and as Brighton huddled down to avoid the bad weather, those of us who had ventured out were in for a top night of mix of blues and almost any other genre you can shake a stick at. It was good to see a large and enthusiastic crowd welcome the band to the stage.
This band have been going for a while and the reason for this, along with a large slice of  crowd admiration is plain to see the moment they set foot on the C2 stage. They are a great live band, as good live as any other touring. They kicked off the Brighton gig with Breadhead. It is clear from the start these guys were into their stride as those blues riffs fills the venue. The brilliant Race To The Bottom is next up and followed by Three Times Enough. An all out rocker of a cover was next I Can't Help Myself, originally done by the Four Tops and as I glanced again around the venue it is immediately clear that most people at the front, that I could see, were word perfect.  Nine Below Zero had seemingly grabbed the crowd and had them in their hands.
Don't Point Your Finger At The Guitar Man is delivered in an irresistible style and the band are clearly well up for this now. They all seemed to be having a blast up there. Even when Dennis popped a string and left the stage, it was a gift for Mark Feltham to grab his harmonica for an impromptu rendition of the OGWT theme, Stone Fox Chase. The band, one by one, joined in and this was a brilliant spot of the set. A full on jam followed the tune through to its ending just as Dennis rejoined them on stage.
Dennis Greaves has to be one of the top Blues guitarists out there. With him is Mark Feltham whose mastery of the harmonica has to be seen to be believed, as mentioned with the OGWT theme. This tiny little instrument is so damn important to the overall Blues sound. Feltham's super playing of it fills and flys with along those jaw dropping riffs that Dennis Greaves routinely delivers. The two of them are pure harmony on the auditory canals. The two of them create a fantastic live sound, and when you mix that in with a top band of musicians it becomes something quite remarkable.
The set was racing along like a well oiled machine. A great mix of older material and also tracks from their new album Avalanche. The aforementioned catalogue and that wonderful career they are riding just now has to make them one of the best loved blues bands playing the circuits in the UK. Did you know that they have played with Eric Clapton and Ray Davies?
Dennis would give us a memory or two or a humourous story between the songs. These were just great to listen to. Some of the humour was superb and he did have the audience laughing their heads off on a couple of occasions.
And Finally:
Nine Below Zero, after a check of the running time of about 90 minutes seemed to then launch into the closing stages of the set as Dennis organises the happy Concorde2 crowd for a bit of a sing along to Woolly Bully, and not resting for a second they infuse the song with a large energy shot! Before they leave to a huge ovation, they drop a final song, Austerity Blues.
A quite superb and most enjoyable set from Nine Below Zero. They nailed that one!  The crowd seemed to be leaving in a far happier state than when they arrived. And as we spilled out from Concorde 2 people were buzzing about just how good that was. And it had stopped raining! Thank you Nine Below Zero – enjoyed that.
Nine Below Zero on the WWW
Support/Guest Slot
Charlie Austen
She took to the stage clutching her guitar and if I recall bare feet (that's a brave thing to do on any stage!). Charlie went on to perform a set of pure delight. The crowd started to build as her voice filtered through the venue and piqued the interests of those outside.
She would chat and offer up an anecdote or two. I don't know how but she just pulled everyone in and we all warmed to her and her music. What a talent Charlie Austen is. And if to prove that point she was also part of the main band, Nine Below Zero.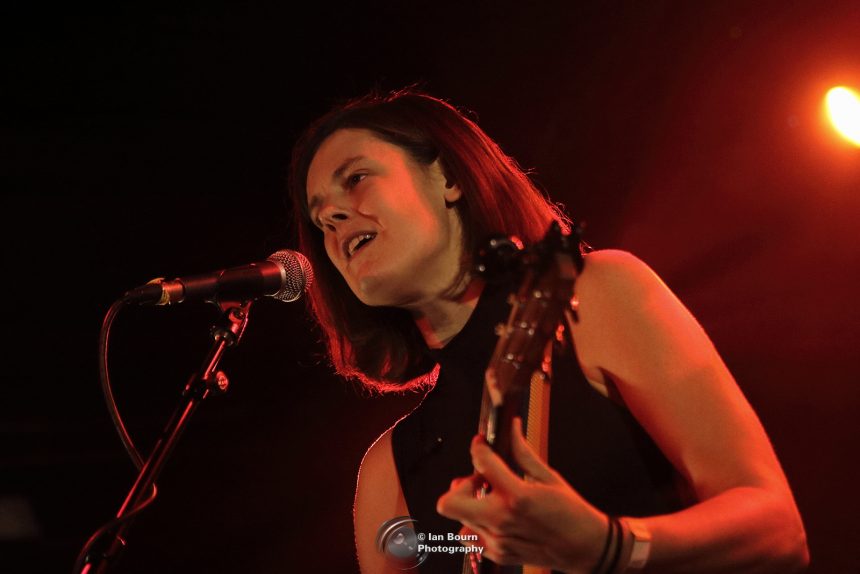 Charlie you totally owned it tonight. Well played.
You can find out more about this brilliant performer and singer/songwriter here on the WWW
The sound for the whole evening was first class, and also a relief, not much from the smoke machine. Well done to the superb staff at this venue, as I saw a staff member look after a guest as he arrived in a wheel chair. She took him into the venue and got him to a good vantage spot. Concorde 2 can be found here.
We work hard with the artists, promoters, the venues and the crowd to bring you the best photos and reviews across the area. Keep Music LIVE! Follow us on Twitter and on Facebook.
Please note all original images / video are copyright, please do not copy. If any of the featured artists/promoters/venues want copies of the images – or more if available – please just get in touch.
All original pictures / video – copyright to IANB/MEDIA WORKS/ SCENE SUSSEX – Ian "The Lens" Bourn 2019.
Got an event coming up? Need some gig photography, promo shots, previews or reviews? – please get in touch! See you down the front – come and say "hi!"