The 48ks + Maze + The Media: Detour Records Night.
Detour Records night with The 48K's / Maze / The Media. Three top class bands live in Worthing at The Factory Live!
SATURDAY, 21 JANUARY 2023: The Factory
There is no denying the fact that the bands selected for tonight are of the highest quality.
The review will go in reverse order: The 48K's/Maze/The Media. Smaller photos can be clicked to enlarge.
The 48K's
The 48Ks are the 5 piece Doncaster based band consisting of Ryan Lightfoot on Lead Vocals, Steve Dale on Lead Guitar & Backing Vocals, Pete Liversidge on Rhythm Guitar & Backing Vocals, Alexander Murdoch on Bass Guitar & Backing Vocals and Chris Morris on Drums & Backing Vocals.
The band was first formed when founding members Ryan Lightfoot and Steve Dale met while they were both in other bands. They started making music together and a strong partnership developed. The 48Ks was born.
I met these guys back in August 2022 and they blew me away. Tonight in Worthing at The Factory Live, they were headlining their mini-tour. I loved what they do, as they clearly pride themselves on catchy original song writing, memorable hooks and tight vocal harmonies. The 48k's have played various venues throughout the country, entertaining with their own brand of Indie/Mod/Rock. The 48k's constantly gain numerous followers and lovers of their music.
Their popularity has led to numerous support slots with prestige artists such as Cast, Space, The View, Reverend and the Makers, The View, The Selecter, The Strypes, The Hoosiers, and From The Jam amongst others.
Launching straight in to a powerful song, Flow, with top quality vocals and music. Yep, I was back in front of the mighty 48K's! The lead singer's voice, Ryan, is always impressive, with his distinctive rock sound. She Sits and Don't Let Go were up next.
The 48K's are a band that have been in the shadows for a while, but have proved they are ready to step it up. They deserve that spotlight.
Sometimes when you listen to a band for the first time, they impress immediately. Seeing them again, they put a huge grin on my face. A great set of tunes delivered with a great passion. Quality.
Where The Wind Will Blow, Cyclone and Days thumping out with two guitars, a full on bass guitar and a rattling drum pattern, the band pack a punch and it allows them to add plenty of riffs over their own backdrop. Their together sound is something to be admired, and again proved themselves a relevant and mighty force. Holding it upfront is Ryan and his vocals are controlled and masterful. A great frontman.
The 48Ks make a noise that certainly impresses. They prove it yet again with a live version of Wishing Well and Heartbeat. Bass and drums were in perfect unison and the guitars were sublime with Ryans voice punching through the sound. This was again an interesting set of self penned material.
Overall I found the performance captivating and fun, I couldn't off take my eyes off them, even if I tried!  Can this music really be so good? It's almost hypnotic. When you have Steve and Alex battling it out on guitar and bass on stage it is brilliant to watch, and hugely entertaining as you never know what is gonna happen next! I guess you'd have to go and see The 48K's for yourself to find out what they are all about.
Every song was played and delivered with pure passion, this band really know how to put on a show as it sadly came to an end with I Want Everything and Call Your Name. Absolutely brilliant gig, the only thing missing was Brian Blessed and thankfully the over enthusiastic smoke machine! This was the Live set of the year for me so far!
Keep up with the 48K's, and grab a copy of their superb new album HERE!
MAZE
Maze are a Britpop, Indie Band from South London, not to be confused with Maze from the USA! Their influences include Oasis, Ocean Colour Scene and The Stone Roses to name but a few. After having released their first couple of singles the band quickly gained a lot of attention and this in turn lead to them receiving a publishing deal with Sony music. From then on in the band has been gigging up and down the country playing and entertaining crowds everywhere they go and have released their first full album Chaos Interrupted. The band is passionate about what they do and love connecting with their audiences.
Maze are the 6 piece South London band consisting of Gary Davis on lead vocals, Paul Hancock on acoustic guitar and backing vocals, Paul Bassom on rhythm guitar, Scott Forsyth on lead guitar, Ben Rutherford on bass and Aaron Palmer on drums. The set opens with Heading Out Of Nowhere and also included Can You Feel It, Come Home and Take Me Away. This set clearly had been put together carefully as it flowed beautifully. No sign of the latest single releases Are You Ready or Love Is Blind. No matter! What Maze gave us made up for those songs not being included.
The last single from Maze 'Step Too Soon' is another classic from this incredibly exciting band. This track was slotted in half way through their set. It starts with an acoustic instrumental vibe and dreamy vocals which is quickly perked up by electric guitars and fast paced drum beats. The vocals are pushed through and shine throughout taking centre stage and giving an overall nostalgic, hazy feel to the track.
It's fair to say that Maze are a band with their roots firmly planted in the days of Britpop glory and indeed, cite their influences to include the likes of Oasis, Ocean Colour Scene and The Stone Roses. They use these influences to inspire them to create a sound which is both familiar but somehow brand new and fresh at the same time.
The band are a familiar, and yet quite unique mix of energetic driven guitars, rolling bass lines, powering drum rhythms and rich melodic vocals that join up all the dots to make their own sound, but all the while delivering an almost nostalgic sound. Fans of the bands mentioned as influences would not be disappointed with Maze. Extraordinarily catchy sounds, which seemed to effortlessly cater for everyone in The Factory Live. There were some truly special songs in this set and hearing these fine musicians with a live audience, gave the songs a completely unique aura. I think Gary had said they were a man down tonight and they pulled this wonderful set together for us all to enjoy.
Everything about this band is pretty dramatic, with their image, all the way to the performance of their music, the intensity of their facial expressions, especially Gary as his face would break out into a huge smile and fire up his enthusiastic dancing – there was no doubt, they gave it their all tonight.
T.L.S, Twisted Little Soul, closed the set. Maze have a lot of power and depth to their music, which really got the audience going! Particularly, good were the main guitarists, Paul and Scott – spot on, Paul performing some truly impressive stuff. Overall, these guys gave a strong performance with a silky smooth indie vibe. Polished!
A faultless, sublime performance only hindered once again by an over enthusiastic finger on the trigger of the stage mounted smoke machine.
Keep on track with Maze on Facebook – right here!
THE MEDIA
For a band I had not heard of before, they certainly have a long history. The Media formed up during 1978 in Portsmouth by Martin Jacks, Pete Rossi, Brian Lee & Michael (Chello) Whichello, they were influenced by 70's sounds generated The Clash, Buzzcocks, Ramones and also take on those 60's sounds of The Rolling Stones and The Kinks.
The Media released two much sought after singles TV Kids and South Coast City Rockers (both can be found on YouTube). They also appeared on the TV program 'Going Out'. They recorded an album but sadly split before release. More recently, 2019 Lovechild Records released the album 'Bright New Future' and a single "Jump Down". The Media have also supported Penetration at the Wedgewood Rooms gig.
The band reformed and recorded the album ' Blink of an eye ' on Detour Records with a new EP ( Getting off at) Fratton released in December. They continue to gig to this day! Thank goodness! The Media hopped onto the stage and the guys took their places. We had drums, guitar, bass and a sax and centre stage, Martin Jacks on vocals! This four piece, who started off life as a basic Punk band released one great 4-track EP on their own 'Tearaway Label'. Then in 1979 as the Mod Revival was at its peak, the band changed direction and released one more single in their new change of style.
During this time the band played extensively around the Portsmouth & surrounding area building up a strong local following supporting The Vapors, The Lambrettas and Secret Affair. The Media have also supported Penetration at the Wedgewood Rooms gig. So as you see, that's some history!
Anyway, lets zip some forty odd years, The Media are back together and nailing it. A 30 minutes set pulled in some great tracks opening the set was Blink Of An Eye, their latest album on Detour Records.  The opening riff, bass and drums opening it up as the vocals powered out! I love a bit of sax, and we were treated to those wonderful sounds blending in with the delicious racket. Sadly someone set off the smoke machine on high or continuous. The band vanished, spluttering in the smog, the crowd recoiled away from the stage. It was like being at a riot where tear gas was deployed! Nasty. Even Martin Jacks asked them to turn it off as he couldn't see where he was going. The band and the crowd desperately fanning the smoke to get rid of it.
Anyway, a  thumping Judy Punk Rocker was in the set, what a tune! Awesome sound, just drop the best bits of Sweet and Glitter Band into a blender and mix it up. These guys have finely honed their skills, they are pure magic, a cracking set of tunes that'll hook you when you hear them live, and give you a set you will not forget.
I have to admit to not knowing about these guys, but the crowd clearly new them as they joined in with old and new tracks including Party Girl, Alfie and Charlotte. 10 Songs in all and closed down a wonderful set with (Getting Off At) Fratton.
Now, Getting Off At Fratton was a Naval term for the withdrawal method of contraception, Fratton being the last railway station before arriving in Portsmouth, which is the end of the line. Who knew?
Anyway if you get the chance go see these guys, they will pull you in with their catchy songs, their banter and damn good musicianship. I loved their set and would go see them again in a heartbeat.
Sadly I was unable to locate a social media site for The Media! C'mon guys lets see a Facebook page or website.
Spinning the vinyl: The DJ's
Love these guys! Great to see you both again! The DJ's and MC's were Steve Bowden and Mark Foxon. No laptops or memory sticks tonight, this was all genuine. Turntables and boxes of precious vinyl goodness. What a rich choice of music and sounds they put out for the crowd. A true delight to hear some of those tunes tonight! Well played you guys!
Steve and Mark have a page on Facebook here.
Detour Records
Detour Records has been one of the Worlds leading independent labels since 1990. Run by David "Dizzy" Holmes. They clearly take pride in creating great music for Mods, Punks and the Scooter Scene in general.
Detour records can be found here.
And Finally…
Thanks to: 48K's, Maze and The Media, Detour Records, Steve and Mark. Also mega thanks to Black Rabbit Productions and the fab team at The Factory Live.
Words and photos by Ian Bourn.
Black Rabbit Productions hosted the evening. They work hard promoting live music on the south coast. They are a promotion company with years of experience putting on music shows. Tonight was superb. They have some great gigs lined up! You can find Black Rabbit Productions on the WWW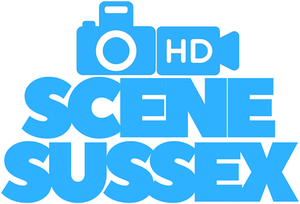 We work hard with the artists, the venues and the crowd to bring you the best photos and reviews across the area. Keep Music LIVE! Follow us on Twitter and on Facebook.
Please note all original images / video are copyright, please do not copy. If any of the featured artists/promoters/venues want copies of the images – or more if available – please just get in touch.
All original pictures / video – copyright to IANB/MEDIA WORKS/ SCENE SUSSEX – Ian "The Lens" Bourn 2023.
Got an event coming up? Need some gig photography, promo shots, previews or reviews? – please get in touch! See you down the front – come and say "hi!"