ABSOLUTE BOWIE – BRIGHTON CENTRE 18.12.2020
Absolute Bowie – I can confirm, hand on heart, Absolute Bowie have to be without doubt, the next best thing, and here's why and an interview with the Starman himself.
The Brighton Centre had undergone a massive transformation for tonights show. No crowd of 5 thousand concert goers, but a couple of hundred socially distanced people were sat for the event tonight.  It really was warm and welcoming and the staff were as usual helpful, polite and on hand to assist. All food and drink was ordered by app and the items were served to the tables quickly. The one way system in place seemed to be working and staff on hand to help anyone who got lost or wondered off!
ABSOLUTE BOWIE:
Absolute Bowie returned to Brighton almost a year to the day.  This finely crafted show/experience fell to earth into the wonderful Brighton Centre.  Winners of the 'Best Bowie Tribute' and 'Best Tribute Band in the UK' at the Agents Association of Great Britain Awards in July 2018. Absolute Bowie are usually always touring and presenting their always evolving stage show, a musical journey through the iconic singer's ever changing personas. This show was promised to feature all of Bowie's greatest hits.
Sadly I never got to see David Bowie live and the opportunity to do that will now never come. I fell heavily for what these guys do when I first saw them play in Brighton and so the opportunity to see them again on my doorstep at the Brighton Centre was not going to be missed! I am now, dear reader a regular! A chance to see John and his band giving me, or indeed anyone, an excuse to boogie to some great Bowie tunes is now an event I would not want to miss.
I have said it before but you have to be brave to be a Bowie tribute act. Bowie was loved by so many and was scrutinised and adored around the world. You have to have the belief and confidence and talent to pull it off. John as Absolute Bowie has all of those qualities and so much more. It is pretty much Bowie perfection and I guess that anything incorrect would be very quickly picked up on.
THE BAND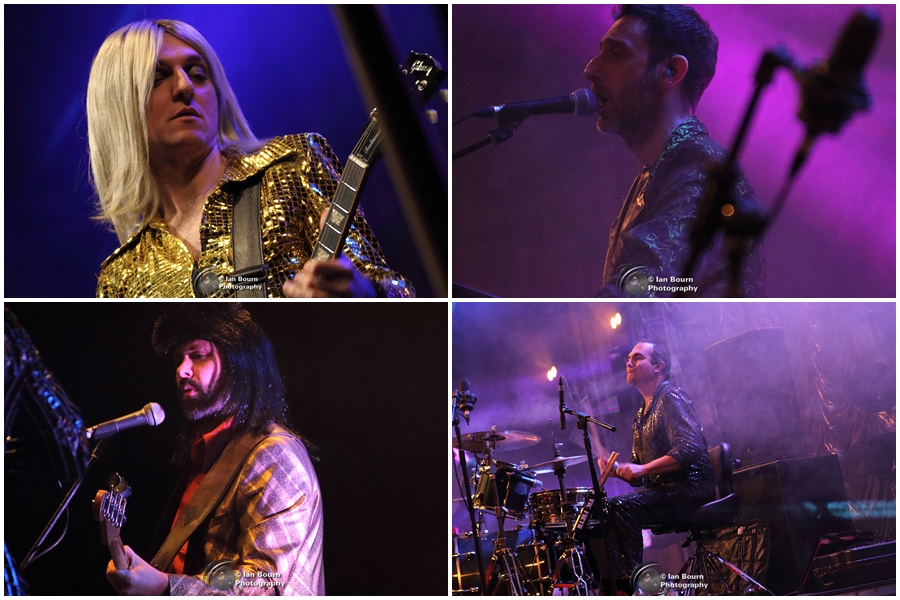 John O'Neill – Vox, 12 string – David Bowie, Andy Marr – guitar as Mick Ronson, Alex Paolillo – Rick Wakeman | Keys + vocals, Alex Face – Woody Woodmansey  | Drums, Eric Guy –  Trevor Bolder | Bass + vocals
The evening was split into two sections – early and later recordings.
THE SET: Part 1

The first segment was masterfully constructed from some of Bowies early career defining albums. Tracks from Rise and Fall of Ziggy Stardust, Hunky Dory, Aladdin Sane, Diamond Dogs and the song Bowie gave to Mott The Hoople.

The intro to Diamond Dogs welcomed the band to the stage, and it was lift off for Major Tom, Diamond Dogs, The Man Who Sold The World, Changes, Panic In Detroit, Moonage Daydream, Ziggy Stardust, Suffragette City, The Jean Genie, Queen Bitch, All The Young Dudes, Starman, and Life on Mars?
The first set had two favourites for me tonight Queen Bitch as John grabbed his twelve string and delivered a quite frankly superb version. And the audience participation for All The Young Dudes. The fans of Bowie music and fans of Absolute Bowie really let it rip with a huge "Wham Bam Thank You M'aam!" during the riot that was Suffragette City, even though we were all seated.
Ziggy Stardust: A fabulous rendition along with some Bowie pouts, crotch grabs, bum grabs and poses galore. This man has done his homework! A mesmerising performance.
The seated crowd clearly wanted to get up and join in. Everyone followed the guidelines and whilst there was some singing there was a lot of waving hands in the air. The whole first section was fabulous and "Bowie" encouraged everyone to join in, and we did! Starman and Life On Mars?  gave everyone the opportunity to sing calmly whilst remaining seated.
THE SET: Part 2

Its always interesting to see what Absolute Bowie have planned. John and his band returned for the second session after a 25 minute break. John and the band played for almost 2 hours tonight. Bang for buck Absolute Bowie are way ahead of the game! Superb value and entertainment.
Part two covered some of Bowies later material from albums such as Young Americans, Station To Station, Scary Monsters,  Lets Dance and a track from Diamond Dogs  – Modern Love, Young Americans, Fame, Look Back In Anger – a song written by Bowie and Brian Eno for the album Lodger. This one caught me off guard as I didn't recognise it and the band absolutely lifted the roof with this one, China Girl, Ashes To Ashes, Let's Dance, Rebel Rebel,  Ground Control to Major Tom….. heralded the beginning of the end of this fabulous evening. Space Oddity, and ending with Heroes.

Rebel Rebel and Heroes nailed it down tight for me from the second set. The guitar playing from Andy was totally on point for the Rebel Rebel track. I last saw them do this song live and the floor at Concorde 2 absolutely bounced with Absolute Bowie!
Interview and words with The Starman – John O'Neill.
How was it for you and the guys playing this gig?
It all happened so quickly, it was almost like a dream. But you know the social distancing and keeping away from everyone was tricky but it was great to get back on the stage. I cant believe we actually managed to do it when nearly everybody in the country is in lockdown. I didn't really want to speak too much about COVID, I just wanted people to enjoy themselves as music is a form of escapism. I just wanted everyone to enjoy the moment and the gig, the people are not there for that, that's going on "outside". I am really really interested in the peoples reaction, as I didn't know what to expect and being on "in ear" its hard because you cant hear much back from the crowd unless you point the microphone out to the audience.
We are used to doing theatre gigs, where people are just sitting watching, a bit like watching TV. but it is great at the end of a song people do show their appreciation which is great. That's really the only difference between a sit down or stand up gig. Am sure you can understand that Ian being a music man yourself.
John, what was it like playing at the Brighton Centre?
Oh, the venue. What a great venue. Its right on our doorstep and I have been to a few gigs there. I also remember Dance 1990, it was like a full on rave in the Brighton Centre and that was brilliant. The venue and promotion team were brilliant, everything was so professionally and meticulously done. We take our hats off to all the organisers, pulling out all the stops for us and it really cant have been easy to do all that. Good luck to them for the future and with more social distanced gigs.
Its tough out there for us all in this industry, we all have mortgages and rent to pay and we all need to keep earning.
We hope everyone had a good night. Thank you.
The mixed audience was made up of a range of different ages, some fans of the band and fans of Bowie himself. Those who have seen Bowie live, and those, like me, who never did will have enjoyed this, but again I can confirm, hand on heart, Absolute Bowie have to be without doubt, the next best thing. This is a great night out and suitable for all ages. Absolute Bowie nailed it. A huge congrats to Black Rabbit Productions and to the entire team at The Brighton Centre. You pulled it together. Everyone seemed happy as they left chatting about what they had seen and their favourite Bowie track.
Absolute Bowie are on the WWW
Black Rabbit Productions hosted the evening. They work hard promoting live music on the south coast. They are a promotion company with years of experience putting on music shows. Tonight was superb. They have some great gigs lined up. You can find Black Rabbit Productions on the WWW 
And Finally…
We work hard with the artists, the venues and the crowd to bring you the best photos and reviews across the area. Keep Music LIVE! Follow us on Twitter and on Facebook.
Please note all original images / video are copyright, please do not copy. If any of the featured artists/promoters/venues want copies of the images – or more if available – please just get in touch.
All original pictures / video – copyright to IANB/MEDIA WORKS/ SCENE SUSSEX – Ian "The Lens" Bourn 2020.
Got an event coming up? Need some gig photography, promo shots, previews or reviews? – please get in touch! See you down the front – come and say "hi!"