LIVE STREAM – CONCORDE 2 – BRIGHTON 13/02/2021
Absolute Bowie: Live stream. This was going to be special. We all felt it. The clock was ticking as the hold screen went live on YouTube.
Concorde 2
Concorde2 is Brighton's Multi-award Winning Live Music Venue & Nightclub. Nationally recognised as one of the UK's leading live music venues & nightclubs. Concorde2 has played host to a continuously diverse cross section of events for many many years. Boasting state of the art L-Acoustics sound and lighting systems, the 600 capacity Concorde2 is a classic Victorian building, originally used as tea rooms in the 1800's. In the 1960's it became a notorious bikers cafe and in the 1970's an amusement arcade, before it was eventually transformed into all it's current glory in 2000.
The Times
The Times had run an item about the gig the day before the live stream concert took place.
Trial Runs
There had been a couple of practice sessions in November to see if it would all work. It did. Two amazing local bands were invited to put on a short set to test acoustics and lighting and the tech required. I AM WARFACE and Les Bods were the two bands selected. It worked. The films were amazing and the tech came together. The two bands were amazing.
ABSOLUTE BOWIE
The publicity machines fired up and a mention in The Times helped (thanks guys). Twitter, Facebook and Instagram were all lined up with great adverts for the gig. The "interested" and "going" counters started to climb.
Everyone arrived early. Miles of cables snaked across the floor of Concorde 2. Three huge filming platforms had been erected. As everyone arrived the Covid precautions were relayed to us all. Gels and sprays were everywhere. My camera, lenses and equipment bag had been wiped down. It was cold in there, and not much chance of the 6 crew and band body heat warming the place up. Out came what looked like an afterburner off a jet fighter, it was lit and it roared into life, spewing some well needed heat into the venue.
Everything was tested at least three times. Absolute Bowie did a pre gig run through of three songs so that the sound levels and lighting could be set. It was a testing time but the humour and banter lifted the spirits of everyone there.  There were three camera operators, Ian and Seth up on the platforms, one set dedicated camera and Cris was on the floor with a roaming camera. This was going to be special. We all felt it. The clock was ticking as the hold screen went live on YouTube.
ABSOLUTE BOWIE
Absolute Bowie were back in town. I last saw the guys perform a sensational gig at The Brighton Centre just before the national lockdown in December. It was an all seated and socially distanced evening. It was a first. This time the guys were back for another first, a live full streamed concert from Brightons own Concorde 2.
ABSOLUTE BOWIE – THE BAND
Andy Marr – as Mick Ronson (guitars and vocals), Alex Paolillo as Rick Wakeman (keys + vocals), Alex Face as Woody Woodmansey (Drums), Eric Guy as Trevor Bolder (bass + vocals)
John O'Neill as David Bowie – Vox, 12 string
Winners of the 'Best Bowie Tribute' and 'Best Tribute Band in the UK' at the Agents Association of Great Britain Awards in July 2018. Absolute Bowie are usually always touring and presenting their always evolving stage show, a musical journey through the iconic singer's ever changing personas. This show was promised to feature all of Bowie's greatest hits. The clock had now started – almost showtime. "Positions everyone, ear pieces in" came the shout. 5 Minutes to go. The atmosphere generated by us was electric. You could feel it. The band took to the stage, and the countdown from the control desk, 5, 4, 3, 2, . The countdown screen switched to camera one.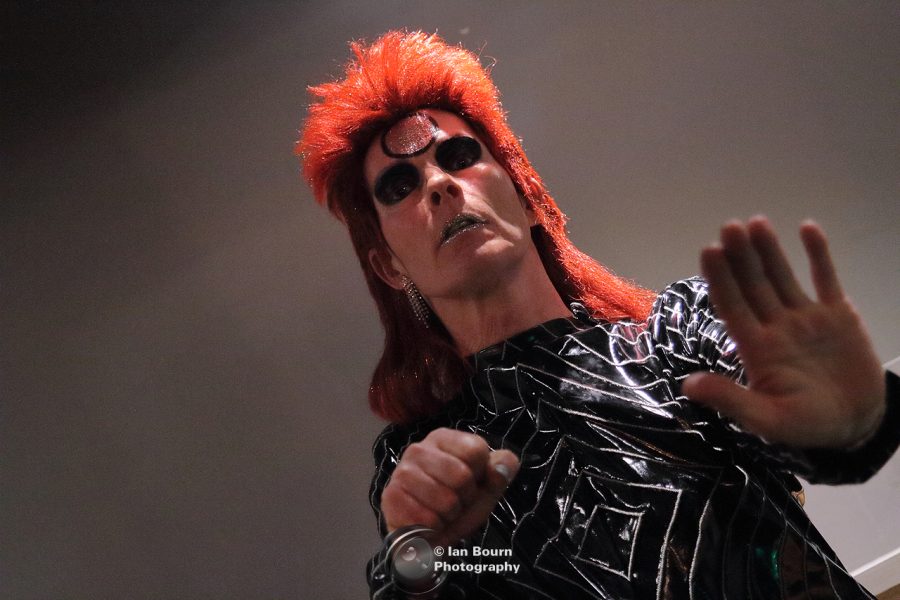 THE SET – part 1
Bowie swirled onto the stage at Concorde 2. Normally 600 people would roar to welcome The Starman, tonight – not a sound. The band fired up with Diamond Dogs – "This aint Rock and Roll…".
The Man Who Sold The World was next. Changes, Panic In Detroit, Moonage Daydream, Ziggy Stardust, Suffragette City, The Jean Genie, Queen Bitch, All The Young Dudes, Starman, and Life on Mars? Were all included in set one. The band really stepped it up from Ziggy Stardust. John reached out into the homes and devices of the hundreds of people watching. A huge shout to the band, Andy on guitars was off the chart tonight, he teased and thrashed his guitars and delivered a totally enthralling guitar set. It was full of those vicious riffs, guitar licks and jaw dropping solos. Boy, can he play guitar. We were treated to a solid percussion performance and an awesome drum solo from Alex, sticks flying hard. He hammered that kit as if his life depended on it.
A full on bass sound carried through the entire show. A recent addition to the line up, and Eric nailed it. He switched from 4 string to 5 string bass and it was incredible to watch him play. The man at the back was Alex on keyboards and a face melting harmonica slot during The Jean Genie. Damn these guys are good, real good.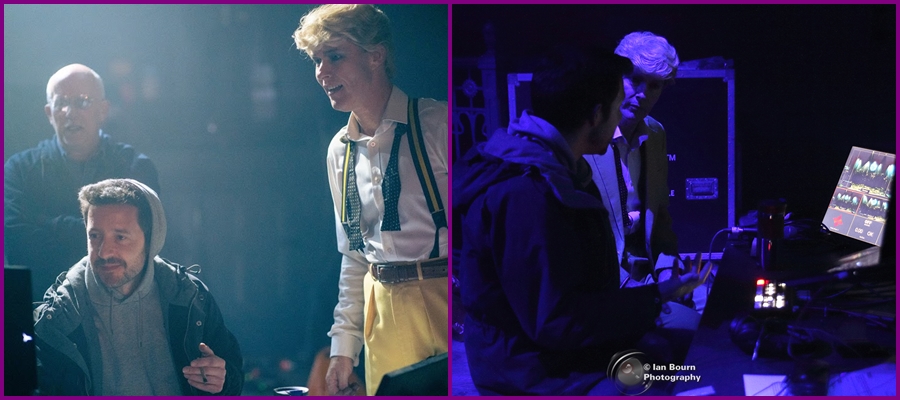 John changed quickly and sat at the control desk with Tom, checking out the visuals and the stunning live feedback from the audience. There was a lot of love from around the world pouring into Concorde 2. We all felt it and all got a bit emotional. This was real, people were enjoying what everyone had worked so hard to do and taking the time to tell us. I had seen a video from a family with two youngsters sitting on their sofa singing and waving their arms along to Starman, that was really special.
SET 2
"Places everyone, we go live in 2 minutes…" We scrambled back onto our platforms, reconnected our comms as we were counted in. Andy, now minus the Mick Ronson blonde wig, legs astride fired up the intro to Modern Love. John had changed persona for part 2, and dashed onto the stage. Oh boy! Did he look ready and the band seemed fired up for part two.
Its always interesting to see what Absolute Bowie have planned. John and his band returned for the second session after a 15 minute break. John and the band played for almost 2 hours tonight. Bang for buck Absolute Bowie are way ahead of the game! Superb value and entertainment. They are a class act. Young Americans, Fame, Look Back In Anger – a song written by Bowie and Brian Eno for the album Lodger,China Girl, Ashes To Ashes, Let's Dance, the band absolutely lifted the roof with this one, Rebel Rebel.
Ground Control to Major Tom
The band left the stage, John now totally in command of his viewers and audience, asking them to make some noise and they would all be back. The live feedback went wild with people typing "noise" and clapping hands icons. The lights dimmed, the smoke drifted onto the stage "Ground Control to Major Tom" ….. heralded the beginning of the end of this fabulous evening, Space Oddity. Ending with an uplifting rendition of Heroes which John dedicated to everyone who had  been watching "you are all heroes, stay safe".
The lights dimmed, the band took a bow, which was a really nice touch as they waved to everyone down the camera. Absolute Bowie – take a well deserved bow guys, you delivered a stunning performance and gave a lot of people a huge amount of music and joy.
And Finally…
Just to confirm that this was a fabulous live stream event.  Strict COVID procedures and safety precautions were adhered to. Masks, Gels etc were worn and social distancing was observed at all times.
The film crew – Cris, Seth and Ian:
Congratulations to the small Concorde 2 team, sound, lighting, visuals for putting on one of the best live streams I have seen. It was a privilege to have been part of it, and part of the history of Concorde 2. Lets do it again!
Concorde 2 are on the WWW
Absolute Bowie are on the WWW
Black Rabbit Productions hosted the evening. They work hard promoting live music on the south coast. They are a promotion company with years of experience putting on music shows. Tonight was superb. They have some great gigs lined up. You can find Black Rabbit Productions on the WWW 
Four Face Productions are a company who aim to support local Brighton bands and artists by bringing them to you. And also streaming live music and offering a streaming service. We have years of experience in the music industry and arts, with an abundance of creativity. Four Face Productions are on FaceBook

We work hard with the artists, the venues and the crowd to bring you the best photos and reviews across the area. Keep Music LIVE! Follow us on Twitter and on Facebook.
Please note all original images / video are copyright, please do not copy. If any of the featured artists/promoters/venues want copies of the images – or more if available – please just get in touch.
All original pictures / video – copyright to IANB/MEDIA WORKS/ SCENE SUSSEX – Ian "The Lens" Bourn 2021.
Got an event coming up? Need some gig photography, promo shots, previews or reviews? – please get in touch! See you down the front – come and say "hi!"