BON GIOVI
Bon Giovi are the World's Premier look-alike and sound alike Tribute to the New Jersey rockers Bon Jovi. Formed in August of 1999, with over 16 years UK and International touring experience as a band and nearly 5 times that combined from individual members, this act is without doubt one of the top tribute acts out there.
Bon Giovi are fronted by top UK Jon Bon Jovi impersonator Gary Williams. The band have not only toured lengthily around the UK, for clients such as Harley Davidson, Vodafone, Butlins, Chicago Rock Cafes, Yates, Walkabouts, The British Motorcycle Federation and Jack Daniels, but have also performed internationally in and around the Middle East, Slovenia, Austria, Cyprus, Turkey, Greece, Holland, Germany, Belgium, Spain, France and Ireland. Bon Giovi were also the only UK tribute act to be asked to make a guest appearance on the New Jersey tribute album "Garden State Of Mind Vol. 1", A celebration of Bon Jovi musical career to date.
Band Members
(latest line up as per Facebook page)
Gary Williams- Jon Bon Jovi
Dean Harris – Richie Sambora
Wayne Harris – David Bryan
James Wright – Tico Torres
James Crofts – Hugh McDonald
Bon Giovi
Bon Giovi
Bon Giovi
Bon Giovi
Bon Giovi
I have seen the real Bon Jovi, a few years ago now when they played in Manchester, I think it was the These Days tour back in '96. I was really interested to see these guys and what they do. The venue, Concorde 2 in Brighton, was loaded up and full. So close to Christmas there was a party atmosphere before the show started! Some fine Christmas finery on display and those inflatable guitars were being held aloft! Bon Giovi have undergone several personnel changes and they are presently seeking a new bass player.
Keep The Faith
The band took to the stage "Hello Brighton" was greeted with a huge cheer back from the crowd. We were promised one hour and forty five minutes of classic Bon Jovi – could they deliver? The guys took to the stage and settled in, lights dimmed and the smoke machine started up!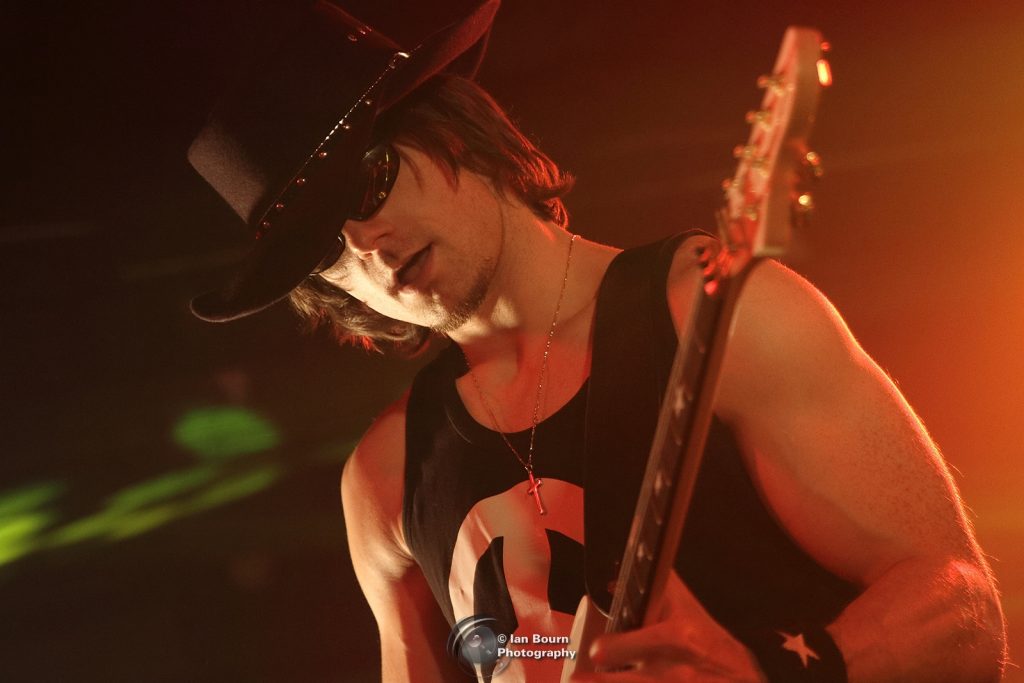 The Set
We were promised an assortment from the Bon Jovi catalogue – and that's what we got. Bon Giovi delivered what it says on the tin! So many songs – Runaway, Saturday Night,  Its my Life, Blaze of Glory, Wanted – Dead or Alive and more!
The sound was absolutely top notch and praise to the Concorde 2 sound desk. All of the instruments could be heard from the keys to the bass drum. All nice and heavy with no distortion and the guys seemed to be enjoying the sound they were putting out. Some great bass playing and a shout to "Richie" – some totally on point rocking guitar and some face melting solos. And of course "Jon" holding it all together – a great front man and performer delivering a belting set of vocals.
The set was split into segments and the final stages included Sleep When I'm Dead, Keep The Faith, Bed Of Roses, Blood on Blood. We were then asked if we wanted more – and we got it. Up came Bed of Roses and it then all went quiet as the keyboards started up and the brilliant "whaaa whaaaaa" of the guitar voice box introduced us to Living On A Prayer. The crowd went nuts! There was dancing, singing stamping and those inflatable guitars were held aloft. We got an intro to the band which gave each member a chance to showcase their talent and included a rather good drum solo. Damn, that was fun!
A Video
Roll back the carpets and enjoy a mixer of the night!

Musically, the songs were vintage Bon Jovi, just fine slabs of friendly rock songs with huge choruses, with the Brighton crowd joining in whenever they could! Great singing Brighton! After all the original Bon Jovi don't sell 130 million albums without knowing how to put together a tune or two! Bon Giovi did those songs proud – well played you guys. Brilliant band, great venue and absolutely brilliant fun evening. The band were fantastic, they sounded like Bon Jovi and I think they stayed on longer than scheduled, really worth going to see. They worked hard, they worked the crowd and everyone went home happy. Couldn't have asked for a better start to the Christmas weekend.
A huge thanks and much respect to Wayne – a real pleasure to meet you!
Bon Giovi are on the web
Bon Giovi are on Facebook
Promotion: Ace Promotions
All photos/words are copyright to IANB/MEDIA WORKS and Scene Sussex. If any of the artists or venues require any of these photos, or more if available, please get in touch.
Got an event coming up? Need some gig photography, promo shots, previews or reviews? – please get in touch!