The Rezillos have proved that they still know how to deliver a killer live show.
SATURDAY, 13 MAY 2023, Con Club Lewes
The Rezillos + The Duel + The Go Go Cult! SOLD OUT!
Scotland's punk scene is alive and well with The Rezillos still up there leading the pack. Fans of the iconic punk band were thrilled when they announced their recent après le pandemic tour dates, and their recent high-energy performances have lived up to expectations. The Rezillos may have been around since the '70s, but they're still bringing their style punk rock, tunes and Rezillo goodness to the masses in the 21st century!
But The Rezillos' high-energy performance isn't just about the music. It's also about the band's stage presence and showmanship. Originals Eugene Reynolds and fellow vocalist Fay Fife are known for their dynamic and playful interactions on stage, often trading off lead vocals and engaging with the crowd. Guitarist Phil Marx, bassist Chris Agnew and another line up original, drummer Angel Paterson round out the line-up, each bringing their own unique flair to the performance.
Offstage, The Rezillos have been influential in the punk and new wave scenes since their formation in 1976. Their debut album, "Can't Stand the Rezillos," is considered a classic of the genre and features hits like "I Can't Stand My Baby" and "Flying Saucer Attack." The band's influence can be heard in the music of countless punk and new wave bands that followed in their wake. The last album, ZERO continued the adventure, and a new album is on the way! Sorry! No dates as yet, but I have heard a couple of snippets! Be excited!
Formed in Edinburgh in 1976, The Rezillos were one of the most influential bands of the first wave of punk. Their unique blend of punk, new wave, and pop music helped to define the sound of the era, and their catchy hooks and irreverent lyrics made them a favourite of fans and critics alike. I first met them whilst on the Ramones road-crew in Edinburgh, in 1977, and have been in touch pretty much ever since.
Fast forward to 2015, and The Rezillos announced that they were reuniting for a tour and a new album. Fans were ecstatic at the news, and the band did not disappoint. On the ongoing voyage of The Rezillos, it is star-date 2023 and two tours are underway, one coming later in the year!
As the band launches into the drums, bass and loud guitar for "Destination Venus," the audience is transported back in time to the early days of punk rock as Fay and Eugene took to the stage. The raw energy and rebellious spirit of the music is still very much evident, and it's impossible not to get caught up in the moment.
But it wasn't just the classic hits such as Baby Does Good Sculptures, Mystery Action, Flying Saucer Attack and Do The Mutilation that got the crowd going. The band's newer material, including Spiked Heel Assassin, The Groovy Room and the face melting Sorry About Tomorrow were all just as well-received. The Rezillos continue to prove that they still have what it takes to write catchy, memorable songs that get people moving. Did I mention a new album is in the works!
Throughout the set, the band members' energy and enthusiasm never waned. Lead singer Fay Fife continues to be a force to be reckoned with, belting out lyrics and engaging with the audience at every opportunity. Vocalist/Saxophonist/Guitarist Eugene Reynolds was equally impressive, shredding through those well known riffs and and solos with ease.
One of the highlights of the show was the band's performance of I Can't Stand My Baby, which had the audience bouncing along in a frenzy. The song, which was originally released in 1977, still sounds as fresh and exciting as it did over 40 years ago, I can testify to that! A live video is featured at the bottom of this item! The song before it was My Baby Does Good Sculptures, Chris hit his stride with some superb bass playing for this one as Phil provided some sparking guitar breaks. And another set highlight for me. Chris kept the well loved bass riff running, working with Angel to provide the rhythm and support. He makes it look effortless. Anyone who has played a bass guitar to a Rezillos track will know it isn't as easy as Chris makes it look.
It was clear that The Rezillos were having just as much fun on stage as their adoring fans were in the crowd. The band's chemistry was palpable, and it was clear that they were thrilled to be back on the road and making music again.
One thing that's clear from the band's recent shows is their deep appreciation for their fans. Eugene Reynolds, the band's lead vocalist, frequently takes time to chat with fans and concertgoers, sharing stories about the band's early days and expressing his gratitude for their continued support. The band make sure that their merchandise was reasonably priced so that everyone could afford to take home a piece of The Rezillos.
Throughout the show, The Rezillos prove that they're not content to rest on their laurels. They play newer material alongside their classic hits, showcasing their continued relevance in the punk rock and music scene. Songs like Sorry About Tomorrow are just as powerful and relevant as their earlier work, and the crowd responds with just as much enthusiasm.
But it's not just the music that makes The Rezillos' live show so special. It's the sense of community and camaraderie that permeates the crowd. Fans of all ages and backgrounds come together to celebrate the music they love, united by a shared passion and that Rezillos rebellious spirit. Fay and Eugene switch around vocal duties. The set list is always different and so you always get a different show every time. The Rezillos will always catch you off guard.
For a band that's been around as long as The Rezillos, it's no surprise that they've managed to amass a dedicated fan base over the years. Their recent shows and tours either supporting or headlining were a chance for long-time fans to relive those glory days, but looking around the venue they also attracted a whole new generation of fans who were hearing or seeing The Rezillos for the first time.
 20,000 Rezillos Under The Sea continued to Rev Up the crowd as Phil didnt stop, Eugene growled and we were off into Someones Gonna Get Their Head Kicked In Tonight! The crowd bopped along in unison as the heat in the Con Club went off the chart. Sweat pouring down everyone's faces! No time to stop. Phil fired up the guitar for the opening riff, Top Of The Pops after an intro from Fay, and the few hundred people in the venue decided it was time to get up and pile in. Fists punched the air as our voices joined in. Simply stunning to be there and be part of it once again!
The Rezillos' live show is a reminder that punk rock is more than just a musical genre – it's a way of life. Their pure, unfiltered energy and dedication to their craft have made them icons of the punk rock scene, and their recent shows that their passion for their music and genre is as strong as ever.
Whether you're a die-hard fan of The Rezillos or you're just discovering their music for the first time, their live show is not to be missed. It's an unforgettable experience that's sure to leave you feeling energized and inspired, and a reminder that punk rock will always be alive and well as long as bands like The Rezillos keep playing. The set was almost over, the guys came back to the stage and dropped Mystery Action and then that huge song River Deep Mountain High which sees Fay make the song her own as she blasts the vocals one more time! She loves that one and pours whatever energy she has left into it, along with mind, body and soul. Never any half measures with Fay Fife. Awesome!
The Rezillos have proved tonight in Lewes that they still know how to deliver a killer live show. Fans who were lucky enough to catch them tonight, as the trains were out on strike again, were treated to a set that featured classic hits alongside new material. Rezillos Rock!
A Video…
The Rezillos have a website – drop in to check on tour dates and news of the album.
You can keep up to date here on Facebook also. Join in, they would love to hear from you!
The Go Go Cult
TURN ON, TUNE IN, GIVE IN ………….
I had heard these guys doing there warm up, and loved it. A new outfit for me. We had a chat outside and they are really nice guys with a great sense of humour.
The Go Go Cult crawl from a heavily armed farmhouse in the swamplands of Reading oozing their wild and unique brand of Hypnotic Fifties Psycho-Delic Garage Goth Surf Punk to mesmerised audiences across the world.
Signing to the legendary Western Star Records in 2012 The Go Go Cult have blazed a trail of explosive shows across the UK leaving behind them 4 critically acclaimed albums, a licensing deal with the fantastic European label Trash Wax Records, regular appearances on BBC6 Music and a string of devoted followers ……..
From the warm up and then later from the set itself its really hard to identify correctly which style of genre they master, and yes they do master it. Guitars and 3 string bass and drums kick off to give the evening a different start with Town Called Sorrow. They were loud during soundcheck, a truly delicious racket, it was immense, and nothing changed as they started their set. Nigel Poole's fine vocal filled the venue along with the notes from his Gretsch.
a small section of the audience, and shamefully me included, were maybe not familiar with the material in this wonderful set, with a few possibly not familiar with the band's material, I can confirm that we all warmed to what they have to offer. They clearly had a few fans, who danced and sang their way through the entire set. By the final two numbers made up of the wonderful Car Crash and I'm In Pittsburgh we were all in the mood! A brilliant choice of support band for tonight, and I reckon they were indeed the right outfit to bump up the atmosphere, create some heat and get the Rezillos party tonight off to a fabulous start!
Go see them if you like your punk, garage and psychobilly, I told you it was difficult to label Go Go Cult! But, I bloody loved it and hope to see them again soon, I wanna know more and hear them again! Tom Williams, Vive Le Rock Magazine, loves 'em and so do I and they no doubt picked up a few more fans from their top set and performance! Well played.
Go Go Cult are on the WWW here and have their website you can visit and catch up, and hear some music! They also have some lively space on Facebook!
The Duel
A fabulous twosome line up make up The Duel.
Tara Rez – vocals/laptop
Paul Laventhol – guitars/Vocals
I have bumped into Tara a few times and last saw her perform with Wingmen at Concorde 2. I said at the time I wanted to see them again, and here we are a few weeks later!
I had not seen or heard much of the bands material until the Wingmen gig,  sadly not seeing a set list, some of the songs covered were still a bit of a mystery to me but Urgency and Dying Son.  The wonderful opening riff of Hold To Love was in the set with Paul owning the guitar work. Terrific track and recommend you check out the video on YouTube. Showing off that real punkier side of The Duel and the laptop started and then Taras vocals let rip! This song, sadly the last one of the short set, was a set highlight for me, I must admit probably because I knew it! Great stuff and had the crowd bopping along.
The Duel receive great reviews in magazines such as Viva Le Rock and Big Cheese, and now again here in Scene Sussex! They pulled in respect, admiration and no doubt increased their fan base. They play in a style that leans towards early Eighties UK punk and they do it pretty damned well. It was nice to see Tara and Paul clearly enjoying being up on the great stage at Concorde 2 previously and now at The Con Club in Lewes. Both connecting with an audience who seemed to be really happy to have a chance to see them play in such a great venue.
The Duel have a no rules approach to the sound they make. The musical vision they have for The Duel is described as "free spirited". But punk rock is definitely what has inspired them to do what they do and pushed them forward. The sound generated tonight for the large crowd confirms that spirit as Tara and Paul pushed their vibe across the room. Tara can sometimes deliver a calmer vocal workout as the laptop as the third member of the band, then it can kick off as Paul lights up the room with top guitar fret work that makes this outfit so damn cool. Tara can switch up her vocal styles with no effort and together they pulled in a sizeable crowd. Nicely played The Duel, that was cool as!
You can duel with The Duel  on Facebook right here!
And Finally…
Thanks to The Rezillos, Go Go Cult and The Duel
Thanks to the Con Club, great venue – the sound and lighting was incredible! Thanks to the great crew Jon and Shona.
Words and photos by Ian Bourn.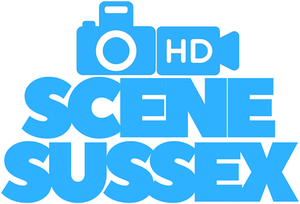 We work hard with the artists, the venues and the crowd to bring you the best photos and reviews across the area. Keep Music LIVE! Follow us on Twitter and on Facebook.
Please note all original images / video are copyright, please do not copy. If any of the featured artists/promoters/venues want copies of the images – or more if available – please just get in touch.
All original pictures / video – copyright to IANB/MEDIA WORKS/ SCENE SUSSEX – Ian "The Lens" Bourn 2023.
Got an event coming up? Need some gig photography, promo shots, previews or reviews? – please get in touch! See you down the front – come and say "hi!"