SHAM 69 – VOODOO RADIO: Concorde 2 – 19 May 2023
Sham 69, a live performance that rocked the night away. This legendary punk band hit the stage with their iconic hits and high-energy performance.
Punk rock music has always been about rebellion, breaking the mold, and standing up for what you believe in. However, for many, the heyday of punk rock music has long since come and gone. But for dedicated fans of Sham 69, a legendary punk rock band from the United Kingdom, their music and message still resonate today just as much as it did over four decades ago.
For those who may not know, Sham 69 is a British punk rock band that formed in Hersham, Surrey in 1975. They quickly gained a following for their energetic live shows and politically charged lyrics, which often addressed issues such as unemployment and social inequality.
Despite numerous line-up changes over the years, Sham 69 has remained a beloved and influential band in the punk rock scene, inspiring countless other musicians and fans along the way.
At this recent live performance in Brighton at Concorde 2, it was clear that Sham 69's music still resonates with fans of all ages. The crowd was a mix of young and old, all united by their love of punk rock, the songs and the powerful message that Sham 69 has always stood for. The band members, Jimmy Pursey, Dave Parsons, Dave Tregunna, and Spike, (Robin Guy was taking some time out), took to the stage, and the crowd erupted in cheers and applause. They wasted no time in launching into their fairly short set, and it was immediately evident that they hadn't lost any of their edge over the years.
The set kicked off as soon as Jimmy P took the stage "1-2-3-4!….." What Have We Got, Tear Gas Eyes, I Don't Wanna and Ulster Boy. Fired in quick succession. Led at the front by Jimmy Pursey his outfit made up of a grey T Shirt and trousers decorated with various objects and bits of material. Damn, the guys were playing at breakneck speed.
As the night went on, the energy in the room only grew stronger. Fans sang along at the top of their lungs to every song, and even those who may not have known all the lyrics couldn't resist the infectious energy of the band and the crowd. Jimmy has usually managed to catch me with water as he throws it into the crowd. Not tonight Jimmy, you missed! No doubt you will get me next time!
One of the most impressive things about Sham 69's live performance is their ability to capture the same raw energy and emotion that made their music so popular in the first place. Give Borstal Breakout a go! The band members played together with a cohesion that could only come from genuine friendship and a shared love of punk rock culture.
Their passion for the music was infectious, and it spread throughout the venue, as fans danced and sang along to every word. Borstal Breakout, That's Life and then we were introduced to those Angels With Dirty Faces. Now the band were loud tonight, but I swear they were drowned out by the crowd.
The band's performance of If the Kids Are United was a standout moment of the night. The song's message of solidarity and unity resonated with the audience, and they sang along with all their hearts. It was a powerful reminder of the significant impact that punk rock music has had on social struggles and political movements over the years.
The short, but powerful set was coming to a close as Hersham Boys sparked up, Parsons, Tregunna and Spike then lowered the volume as Jimmy Pursey asked the crowd if we knew whose birthday it was. " Happy Birthday Charlie Harper" everyone joined in, then it was 1-2-3-4 and we were back to those tower blocks with Hersham Boys.
Set closer was, naturally, Hurry Up Harry. Boy, Sham 69 kicked that one – the heat in the venue increased. Looking into the crowd I could see hundreds of happy sweaty faces.
The band's performance was a testament to the enduring power of punk rock music. With their raw, unapologetic sound and lyrics that spoke to the struggles of working-class life, Sham 69 has always been a voice for the voiceless. And on this night, that voice was louder than ever.
As the band played hits like If the Kids Are United, Borstal Breakout and Hurry Up Harry, the crowd erupted in a frenzy of moshing and leaping into the air. But it wasn't just mindless chaos – there was a sense of camaraderie and community among the fans.
Sham 69, a live performance that rocked the night away. Come back soon!
VIDEO – Sham 69 Hersham Boys wishing UK SUBS Charlie Harper a happy Birthday!
Voodoo Radio:
Paige and Tony, from chatting with them at their first gig, and listening to their set again tonight are indeed very much aware that this genre of rock/punky/pop music can still be fun. Its how it should be and these guys deliver on that.
You might think these two are maybe some kind of "novelty". Let me assure you they are not, these guys are totally serious and proceeded to give a large Concorde 2 crowd a set of top rocking tunes, but keep an air of fun and mischief mixed it. They put it all together and pull it of in style. I had been given a heads up on these guys from Tony, Sounds Of The Suburbs record store in London after he had them play an in-store session. And it was great to see Tony back to see Voodoo Radio play again.
Eat Your Words, a spiky little number got the 30 minute set underway. Tony blitzed his guitar for chords for Pretty Boy as Paige hammered on the kit. They have a new EP out "Stupid Humans" which features a cover of C30 C60 C90 Go! Originally performed by Bow Wow Wow. The guys have owned this track and made it their own. A younger crowd may not realise what a C60 or C90 is, but the crowd tonight knew what it means! And yes, me included!
Super hooked up guitar riffs and a powerful beat. They had every person in the room fixed to the spot.
The eye wateringly good Slag bank was delivered with gusto and Paige got the crowd to respond to invitation to respond to her cry of OGGY OGGY OY! Another new track from the EP included Dog, and then the title track Stupid Humans. Stupid Humans is the latest single/video release from Voodoo Radio, recently previewed by Vive Le Rock. Its a powerful punky number with lyrics that mean something, powerful guitars and Paige whilst splashing around in wellies in puddles, delivers her usual high standard of vocals – check it out on Vive Le Rock here!
Tony puts in some quality Quo/ACDC styled power punk riffs. The set is full of filthy, brilliantly catchy little numbers and then Paige drops in the vocals, reminding me maybe of Cherie Curry or an early incarnation of that Joan Jett class and attitude. Want to know what a Slag Bank is? Go see Voodoo Radio and Paige will tell you all about it! Turn Out The Light ended the short but very sweet set.
I said before "This band have put together some adrenaline pumping quality tunes. A strong set and performance from both have cemented them into my list of "must see" bands. How much further can they take this? I think the sky is the limit for Voodoo Radio." Well since that first meeting, you just have to check out their schedule nowadays, and the bands that they have been playing with. They have had two monster EP's and take note, they are back in September at Concorde2 with The Skids.
Voodoo Radio are on Facebook – go on! Give them a like!
Voodoo Radio are drumming it out on the WWW. The site seems to be under maintenance just now, but keep trying!
And Finally…
Thanks to Sham 69, Voodoo Radio, Paul Sham and the Concorde 2 crew.
Words and photos by Ian Bourn.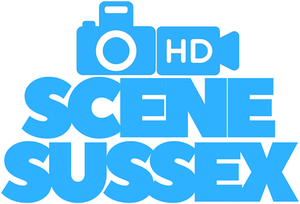 We work hard with the artists, the venues and the crowd to bring you the best photos and reviews across the area. Keep Music LIVE! Follow us on Twitter and on Facebook.
Please note all original images / video are copyright, please do not copy. If any of the featured artists/promoters/venues want copies of the images – or more if available – please just get in touch.
All original pictures / video – copyright to IANB/MEDIA WORKS/ SCENE SUSSEX – Ian "The Lens" Bourn 2023.
Got an event coming up? Need some gig photography, promo shots, previews or reviews? – please get in touch! See you down the front – come and say "hi!"