Whiskey: Latest single from Tokyo Taboo
Its a face melting belter. Enough said!
Oh my! The second the bright lurid colours of the video spark up – it grabs hold of your eyeballs – it will tattoo Tokyo Taboo on your retinas. These guys have dropped some superb quality visuals in the past and that totally continues with Whiskey.
The video opens with Dolly who is maybe sleeping it off after a session. She awakes with a start and glares at the bottle and the song kicks off. In jumps Mickey, his guitar already howling with a riff that kills.
"Whiskey, I need you to numb the pain"
The video is full of temptation as Whiskey is everywhere. Dolly has talked about her addiction to alcohol in the past and the Tokyo Taboo website has this to say:
"The track, a raw personal lament on Dolly's tumultuous relationship with alcohol, rages with the band's trademark ferocity as whirring hooks race alongside tremendous beats. The immense power of front-woman Dolly's vocals married with Guitarist Mickey Danger's riotous riffs blast into your ears, propelling the track forward at break-neck speed."
As the video plays through we see Dolly performing some of her manoeuvres on her pole. Short snippets, a tease if you like. Go see Tokyo Taboo live as Dolly will dazzle you with her dexterity, skills and pure core strength on the pole whilst delivering a power laden vocal. It works. Its astonishing.
Watch the video – its simply stunning backed with a strong Tokyo Taboo song.
Whiskey – The Video
Phew! The single is pure class and delivers a sonic lesson in what Tokyo Taboo is all about. The band pull in tight for this. It is delivered with a punk fuelled ferocious energy, sharp lyrics and a chant for when we all get together again. Its in-your-face 100 watts of charged brilliance. One listen and you will hit the rewind icon. So many searing guitar breaks and riffs, stunning bass lines and a nuke powered up drum kit. All of this links together with a song meshed together with strong lyrics and delivered totally on point by Dolly and chorus that will be with you for a while after that initial hit from the shock wave this song pushes out. Its strong and its tough, and, to be honest, I wouldn't have expected anything less. Tokyo Taboo are a force that have to be seen live, they have to be one of the top bands on  the live circuit just now. This year, so far, has been pretty well non existent for live music since March 2020, but this release shines like a beacon of hope for when live music escapes the Covid 19 lockdown. I cant wait to see this live.
The guys are working on new material and talk of a new album to follow up the superb 6th Street Psychosis.
Tokyo Taboo
Riotous rockers Tokyo Taboo have built quite a reputation for their spectacular, character driven, and often shocking vibrant live performances. I had missed these guys when they last visited Brighton on the successful Lips Can Kill tour.
The duo now with a full on band with them are ready to raise hell and then some when the restrictions are lifted. The line up when we met up:  Dolly Daggerz – vocals, pole and engaging with the crowd, Mickey Danger – guitars, vocals, On drums… George, On Bass… Jools
During lockdown check out their Facebook page as they have been doing a fabulous run of live acoustic sets. They are a great way to spend 30 minutes. You are treated to super performances from Dolly and Mickey, a chance for Q&A's, competitions. It is interactive and they will give you a warm welcome.
Now – go grab the single Whiskey from https://tokyotaboo.bandcamp.com/merch – there is also a limited edition version (50 copies) of Whiskey available – be quick! ( I got mine – thanks so much guys)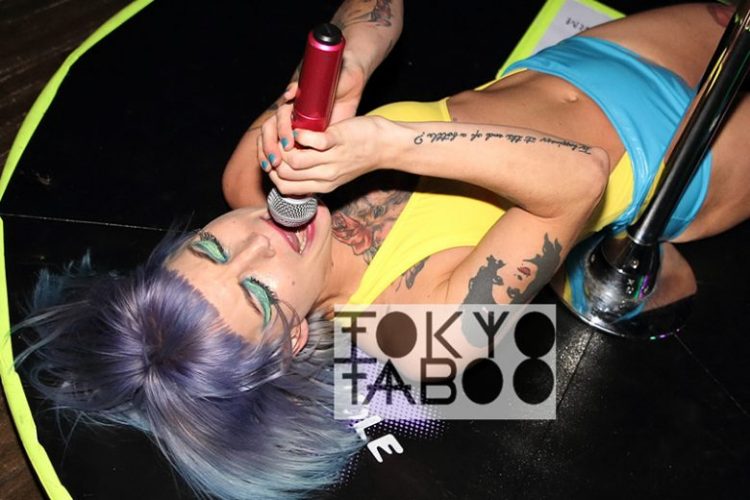 Keep in touch with Tokyo Taboo on the WWW
Keep In Touch With Tokyo Taboo on Facebook
We work hard with the artists, the venues and the crowd to bring you the best photos and reviews across the area. Keep Music LIVE! Follow us on Twitter and on Facebook.
Please note all original images / video are copyright, please do not copy. If any of the featured artists/promoters/venues want copies of the images – or more if available – please just get in touch.
All original pictures / video – copyright to IANB/MEDIA WORKS/ SCENE SUSSEX – Ian "The Lens" Bourn 2020.
Got an event coming up? Need some gig photography, promo shots, previews or reviews? – please get in touch! See you down the front – come and say "hi!"