As promised – we are back! This weekend sees some huge names taking part in Lockdown live streams and broadcasts. Check out our earlier review/preview with pictures and links and even more live music – Brighten up – LOCKDOWN 1 
VIVE LE ROCKDOWN: Saturday May 23rd 2020

Ok, we are kicking off with the Vive Le Rock extravaganza – and we at Scene Sussex towers cant wait for this!
VIVE LE ROCKDOWN!! Its a free Online Global Music Festival with all your favourite Vive Le Rock bands. Its happening on Saturday May 23rd on Facebook. My suggestion is to grab a beer and sit back and rockout! Line up details are on the poster below.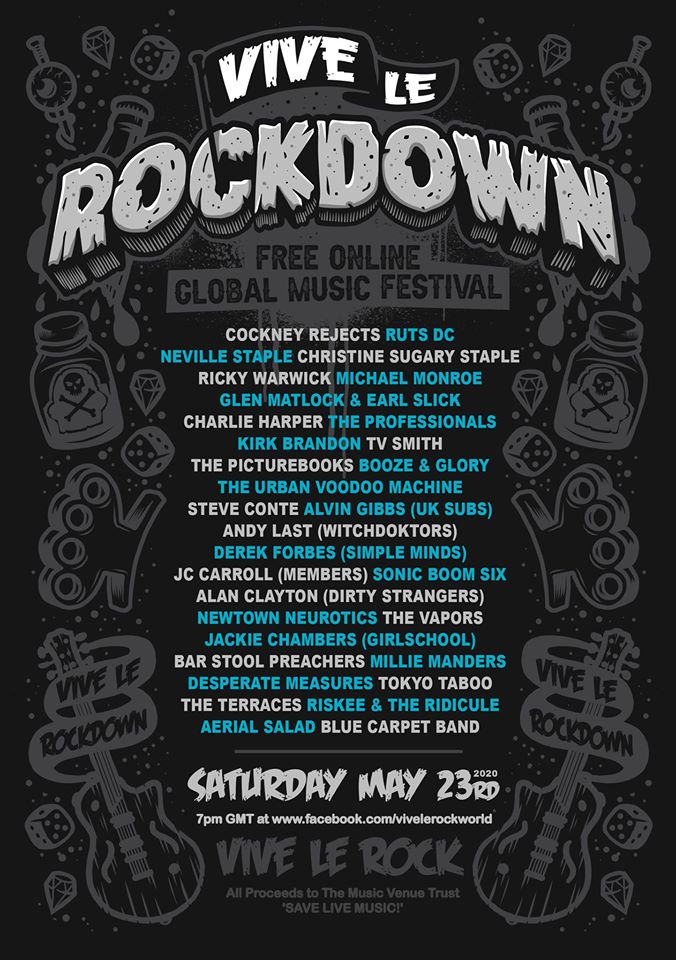 So many big names and great bands to watch live, just check them out on the line up. Its gonna be a hot night. Great job to Vive Le Rock with Vive Le Rockdown – you can find it here: Vive Le Rock – FaceBook.
DONATE TO SAVE OUR VENUES!  Vive Le Rock are taking paypal donations sent to- info@bigcheesemagazine.com for Vive Le Rockdown. ALL proceeds will go to the Music Venue Trust to keep venues alive.They have 'SAVED' 140 venues so far .They will announce next week how much we have raised – Thanks VLR
Line up and times:
7:00pm – Welcome to Vive Le Rockdown!. 7:01pm – Aerial Salad. 7:03pm – Tokyo Taboo. 7:08pm – The Blue Carpet Band. 7:11pm – The Terraces. 7:16pm – Millie Manders.
7:19pm – Riskee And The Ridicule. 7:21pm – Desperate Measures. 7:23pm – Alan Lee Shaw (The Damned/Maniacs). 7:26pm – Bar Stool Preachers. 7:30pm – The Vapors
7:33pm – Jackie Chambers (Girlschool/Syteria). 7:55pm – The Zipheads. 7:58pm – Alan Clayton (The Dirty Strangers). 8:00pm – Sonic Boom Six. 8:04pm – JC Carroll (The Members).
8:08pm – Newtown Neurotics..8:13pm – Derek Forbes & The Dark (Simple Minds). 8:17pm – Andy Last (The Witchdoktors). 8:20pm – Alvin Gibbs. 8:26pm- Paul-Ronney Angel (The Urban Voodoo Machine)
8:30pm – Booze & Glory. 8:33pm – Steve Conte. 8:38pm – The Picturebooks. 8:42pm – Kirk Brandon. 8:45pm – TV Smith. 8:47pm – Charlie Harper. 8:49pm – Tom Spencer (The Professionals)
8:51pm – Glen Matlock & Earl Slick. 8:56pm – Ricky Warwick. 9:00pm – Michael Monroe. 9:03pm – Neville Staple & Sugary Staple. 9:17pm – Ruts DC. 9:20pm – Cockney Rejects
Joey Ramone Birthday Bash:

Joey Ramone *VIRTUAL* Birthday Bash 19 May 2020
Oh my. This was rather good. Some great artists taking part with this live virtual birthday party to mark Joey Ramones Birthday. I had met The Ramones whilst road crewing for them on the Rocket To Russia tour. Joey was a delight to talk to and the band back then was the original line up. What a night that was. Last saw the guys live in 85/86 in Brighton and chatted with Arturo and Johnny.
This stream was a great production and I am listing this in case you missed it, as here in the UK, it didn't start till 1am.
This was a most memorable night with appearances from friends and those involved with The Ramones – and band appearances from CJ, Richie and Marky. Knox from The Vibrators got proceedings under way with an acoustic version of Baby Baby. Enjoy this it really is worth a watch – and just look at that line up!
Joeys Birthday Bash can be viewed here in its entirety on the FaceBook page – 1,2,3,4 – Lets Go! HERE.
Glen Matlock and Earl Slick: Live 21/05/2020 – 8pm.
Glen Matlock has truly left his mark on the music industry throughout his career. Glen is an English musician and is probably best known for being the bass guitarist in the original line-up of the punk rock band the Sex Pistols. But dig a little deeper than that and you find The Rich Kids, Iggy Pop, The Damned, a reformed Faces, The Philistines and even more.
Glen Matlock had posted on his page:
"Okey dokey, we've been piddling around long enough and decided to have a bash at an on line gig this Thursday at 8pm on Facebook live on here somehow.
Tune in and keep us company so it's not the sound of one hand clapping. See you there / here in cyberspace fellow cyber surfers…
"
I have met Glen and photographed him when he was in Brighton on his one man show a while back. He was fabulous relating stories and interspersing those with songs whilst playing his acoustic guitar. Glen and Earl Slick (Bowie, Lennon and so many others) playing for us, live and together! This will be a cracker – dont miss it. The stream will take place on Glens Facebook page here.
The Soapgirls: Live and kickin' it – 21/22/23 May 2020.
Love 'em or hate 'em? They always seem to draw that question. Me – I love them. I have been lucky to spend some time with these guys before and after their gigs in and around Brighton. They are strong, they are enthusiastic and totally express their passion for life and the right to live it how they want.
Viewer discretion is advised for this one as there might be nudity and colourful rock and roll language is pretty much guaranteed. They are presently on a world wide virtual tour – which is actually based in their garage. They have had complaints and had the police turn up. They have lambasted/roasted a hater online – and that broadcast got cut for a while – but it had racked up over 37k views. Mie and Mille work so well together, and they put a lot of time and talent into their online shows. They are sisters and seem to know in advance what each other is going to do. You will have songs loaded with screaming vocals and guitars, harmony and bass, and some sublime growls with drums. These girls give it everything. These guys are totally unpredictable and they have a wonderful sense of mischief and a generous hint of mayhem about them. They end with a usual Q&A session. Catch them live and find out just what The SoapGirls are all about.
Virtual Tour Trailer:
The SoapGirls are Touring the World-Virtually! New Virtual Citys each show, with New Costumes and Themes!

Posted by The SoapGirls Merchandise on Tuesday, 21 April 2020
Catch them "on tour" on Facebook here or here.
May 21 18:00 · Online event
Egyptian Goddesses Virtual Livestream from Detroit MI, USA
Fri May 22 – 18:00 Online event
Bees at The Hive Virtual Livestream from Edinburgh, UK
·
Sat May 23 · Online event
Going Tribal Virtual Livestream from Sao Paulo, Brazil
And Finally…
If you enjoy the sessions then why not go get some merch? Help the musicians out if you can. Please be advised though if you watch any live streams and if you are going to "tip" the musicians use the links or address that they provide. Avoid those pesky scammers!
Brighten up LOCKDOWN – live music streams to enjoy – keep an eye out we may do another item with even more great content. So, when this is all over make sure you go out, support local venues and see some live music.
We work hard with the artists, the venues and the crowd to bring you the best photos and reviews across the area. Keep Music LIVE! Follow us on Twitter and on Facebook.
Please note all original images / video are copyright, please do not copy. If any of the featured artists/promoters/venues want copies of the images – or more if available – please just get in touch.
All original pictures / video – copyright to IANB/MEDIA WORKS/ SCENE SUSSEX – Ian "The Lens" Bourn 2020.
Got an event coming up? Need some gig photography, promo shots, previews or reviews? – please get in touch! See you down the front – come and say "hi!"